What Happened in the Industry in the Last 4 Years?

The crypto market has shown the best overall growth in the last four years during the period BeInCrypto has been around.
This article will show the most important events in the industry during the last four years, together with what was the course of action during that period for some of our crucial clients; Bybit, Kyber, and Poloniex.
From countries and people being skeptical about crypto, the whole narrative has changed. The crypto market and blockchain technology have paved the way for numerous developments.
Back in the day, people were quite unsure about what crypto was, its utility, and its underlying technology. With increasing adoption globally, crypto education and awareness are showing a visible rise.
Bear market, bull market, NFT boom, increased adoption, crypto regulations, play-to-earn games, and a lot more. Let us take a deeper look at what has happened in crypto in the last four years.
Bear and the Bull
A bear market is generally when the prices of crypto assets plunge into a prolonged decline state. A bull market, on the other hand, is quite the opposite.
With rising inflation and worries about a recession, the cryptocurrency market has recently reached its lows, discouraging investors. The public is concerned that crypto is about to come to an end as Bitcoin and other markets continue to fall.
👉 The Bear Market of 2018
If we put this phenomenon in some context, we will see that this is not a recent occurrence. In fact, this cryptocurrency slowdown happened in 2018 as well.
December 2018 witnessed one of the greatest downfalls when Bitcoin plunged to $3,000 from $20,000. The phenomenon was dubbed the Great Crypto Crash of 2018, and the overwhelmingly negative atmosphere lasted until 2019.
⚡️ The Bull Run of 2021
A quite the opposite bull run occurred in 2021 when there was a surge in the prices of cryptocurrencies. Many altcoins even hit their all-time highs in November 2021.
The top cryptocurrencies like Bitcoin and Ethereum touched their all-time highs in November 2021 as well; BTC touched $68,789.63, while ETH hit $4,891.70.
The bear market has made several traders and investors ultra-rich and wealthy. Many who invested during the bear markets reaped millions in profits.
🦾 NFT boom
Even though NFTs have existed since 2014, 2021 marked the year they became widely accepted. It upended the art world as well as other sectors of the economy. The NFT scene has rapidly changed over the last two years.
An NFT, or Non-fungible token, is basically a cryptographic asset that can be an image, a video, music, or anything virtual. The ownership of the NFT is recorded on the blockchain, and users can transfer it from one person to another.
Early in 2021, celebrities and artists generated buzz in the NFT industry. One of the largest single sales by a digital artist, Beeple's $69.3 million NFT at Christie's auction in March turned heads. In retrospect, the NFT boom may have hit its peak at that point.
The "Merge" is one of the most expensive NFTs sold for $91.8 million. The second in the series is "The First 5000 Days" by Beeple for $69.3 million, followed by "The Clock," which was sold for $52.7 million.
Crypto regulations globally
As the use of cryptocurrencies grows, so are the regulations that have been put in place to control them globally. It can be challenging to stay up to date with the laws in various international jurisdictions because the crypto realm is rapidly changing.
A few countries have not yet clarified their stances on cryptocurrency regulation. At the same time, countries like Dubai and El Salvador have explicitly stated what they think about the exchange and trade of crypto.
India, the United States, and Russia are in a confused stance as to whether to legalize or ban crypto. But these countries have been welcoming of its underlying technology.
Some countries, like Nepal, Vietnam, Iran, Bangladesh, China, Algeria, Columbia, Egypt, etc., have banned crypto.
With the pace of crypto adoption and usage, the market will see tremendous growth in the following two years. Industry giants and countries will begin accepting and regulating crypto, paving the way for increased adoption and a hike in coin prices.
Let's now have a look at what some of BeInCrypto's most valued partners did in the last 4 years and their ambitions for the future. Without further ado, let's dig into the details!
Bybit
Bybit has had an established presence in the industry since 2018, which means it was launched in the same year as BeInCrypto!
The platform has expanded into a crypto ecosystem, providing Crypto believers of all levels access to over 100 assets and contracts across Spot, Futures, Options, Launchpad projects, Earn products, an NFT Marketplace, and other areas.
Bybit's technology, which includes an incredibly quick matching engine, round-the-clock customer support, and multilingual support, is always developing to offer unmatched stability and dependability.
In the last 4 years, the platform has achieved some significant achievements:
For six months in a row, Bybit is the top three most frequently visited crypto exchanges in the world.Since its inception in 2018, Bybit has served over 10 million consumers and organizations in 150 countries, covering 16 languages. To service and support local users, Bybit built 16 local country teams with 5x quarterly growth on average across local markets.
These milestones sound remarkable, don't they?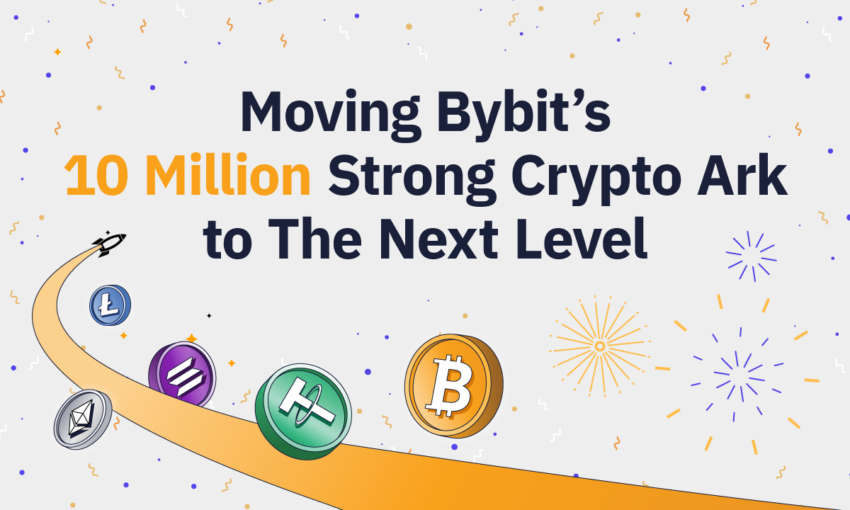 "It's been an incredible four years"
said Ben Zhou, co-founder and CEO of Bybit.
"To grow from a derivatives exchange with only four trading pairs to fully-fledged crypto exchange with 10 million users in such a short period. Bybit is here to listen, care, improve, and leave no crypto believers behind. We will continue to launch and improve our product lines."  
The esports organizations NAVI, Astralis, Alliance, Virtus.pro, Made in Brazil (MIBR), City Esports, and Oracle Red Bull Racing Esports, as well as the association football (soccer) groups Borussia Dortmund and Avispa Fukuoka, are all proud and like-minded partnerships that Bybit partnered with over the years. 
Bybit's goal as a crypto ark has consistently supported all crypto enthusiasts of various crypto and trading maturities on these years of journey with resources and products such as:
Customer Service Team and Help Center that provide clear, step-by-step tutorials for simple and convenient onboarding and trading experience.Bybit Blog and Bybit Learn give customers product recommendations, as well as introduce a plethora of trading tactics that users may employ in this ever-changing crypto world. The helpful creators of Bybit, Ben, and Product Leads like Bill Xing can also provide you with the most recent updates, first-hand product recommendations, and more.Constantly innovating new products such as (I) Deposit, Stake, and Earn with up to 12% APY feature (II) Zero Fees for Spot Trading on BTC, ETH, altcoins, and more (Bybit is offering this as a part of their celebratory spirits) (III) the only exchange for offering USDC-margined Options
Amazing outcomes for Bybit during the last four years! We are curious to see what the future holds for them, but from what we have seen thus far, it looks more than promising!
Kyber Network
Since Kyber Network's launch in 2017 with Vitalik Buterin as an advisor, Kyber has been driven by innovation and dedication to become one of the top DEXs in the DeFi space.
As pioneers in DeFi, Kyber has grown from one of DeFi's earliest DEXs to one of the most renowned blockchain protocols.
Kyber Network is also privileged to be in a position to guide and advise others. Not only was Kyber one of the launch partners to bring WBTC to Ethereum, but the team has also assisted in advising and launching the DeFi Alliance and Asia DeFi Network.
Even now, Kyber continues to provide guidance and support to budding DeFi projects through their investment arm, Kyber Ventures.
"KyberSwap has been known since 2017 as a DeFi pioneer with a reputation for technical innovation and transparency. This consistent reputation is due to our unwavering focus to make decentralized finance accessible and easy to all, and KyberSwap the only exchange & aggregator that any user needs."
said Victor Tran, CEO & Co-Founder of Kyber Network.
Along their journey, KyberSwap evolved to match the fast-paced, ever-changing DeFi landscape. In the last year alone, KyberSwap implemented a KNC upgrade and migration to increase KNC flexibility and give more authority to KyberDAO. 
It also established an Ecosystem Growth Fund, which paved the way for Liquidity Mining on KyberSwap, transitioned KyberSwap to a DEX aggregator, and rapidly deployed on multiple EVM-compatible chains, allowing the platform to aggregate liquidity to give users highly competitive rates for their trades.
What is Kyber Network's goal?
Kyber Network's goal is to build a world where DeFi is accessible, easy, cheap, fast, and secure for users, and they are committed to doing so with their core product, KyberSwap.
As a next-gen DEX aggregator currently deployed on 12 chains (Ethereum, Polygon, BNB, Avalanche, Fantom, Cronos, Arbitrum, BitTorrent, Velas, Aurora, Oasis, and Optimism) aggregating liquidity from over 67 DEXs, Kyber has been focused on building the platform as not only one of the best places to trade in DeFi but also one of the best places to earn, through developing tools and protocols to maximize returns for liquidity providers.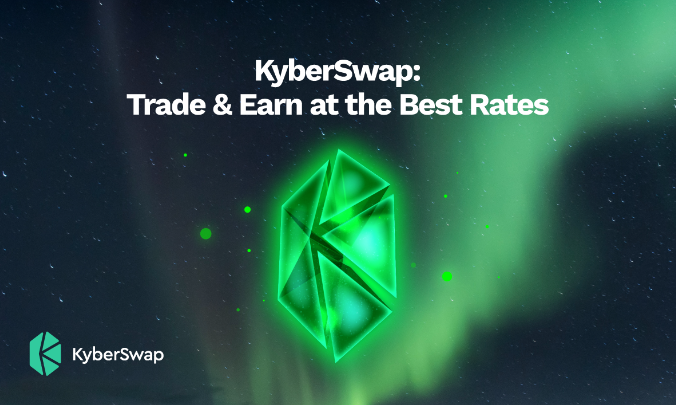 With a suite of capital-efficient protocols designed to optimize rewards, liquidity providers can choose to earn with dynamic fees with KyberSwap Classic's Dynamic Market Maker(DMM) protocol, DeFi's first market maker protocol that dynamically adjusts LP fees based on market conditions, or with Kyber's newest protocol, KyberSwap Elastic.
It is a tick-based AMM with concentrated liquidity, customizable fee tiers, reinvestment curve, and other advanced features specially designed to give LPs the flexibility and tools to get granular with their earning strategy without compromising on security.
In addition to capital efficient protocols, KyberSwap has built pro trader tools such as Discover, a first-of-its-kind intuitive tool for traders to discover tokens before they trend, Dynamic Trade Routing for optimal trade routes, Pro Live Chart for complete technical analysis, along with other features designed for an easier trading journey. 
To date, KyberSwap has powered 100+ integrated projects and has facilitated over US$10 billion worth of transactions for thousands of users since its inception.
KyberSwap is also committed to user education with partnerships with Binance, CoinGecko, TechInAsia, and several other partners, in addition to building its own user resources, as part of its long-term commitment to onboarding the next billion users into DeFi.
Poloniex
Founded in 2014, Poloniex is one of the world's oldest cryptocurrency exchanges. It offers 400+ tokens for trading to retail and institutional investors.
According to CoinMarketCap, it is one of the top 15 worldwide cryptocurrency exchanges in terms of derivatives. With years of experience in the crypto realm, it has witnessed several bearish and bullish market cycles.
H.E. Justin Sun invested in the exchange in 2019. Since then, the exchange has focused its attention on international customers to continue its international reign.
"2022 marks another milestone to Poloniex's history, especially for the launch of a new trading system and the zero-fee trading policy. With the determination, dedication, and diligence of the global team, I believe Poloniex will make history again to provide top-notch products and services for crypto investors from all over the world,"

said H.E. Justin Sun, founder of Tron and investor of Poloniex.
The last 4 years were fantastic for Poloniex! Now, let's take a closer look at some of the exciting and forthcoming features Poloniex aims to provide its users with. 
What is Poloniex bringing to users this year?
Poloniex has reached a big milestone this year with the debut of a new trading system, a zero-fee policy, and was one of the first cryptocurrency exchanges to support two potential hard fork tokens before the Ethereum Merge. Specifically, the ETHW (ETH1, Ethereum PoW) and ETHS (ETH2, Ethereum PoS).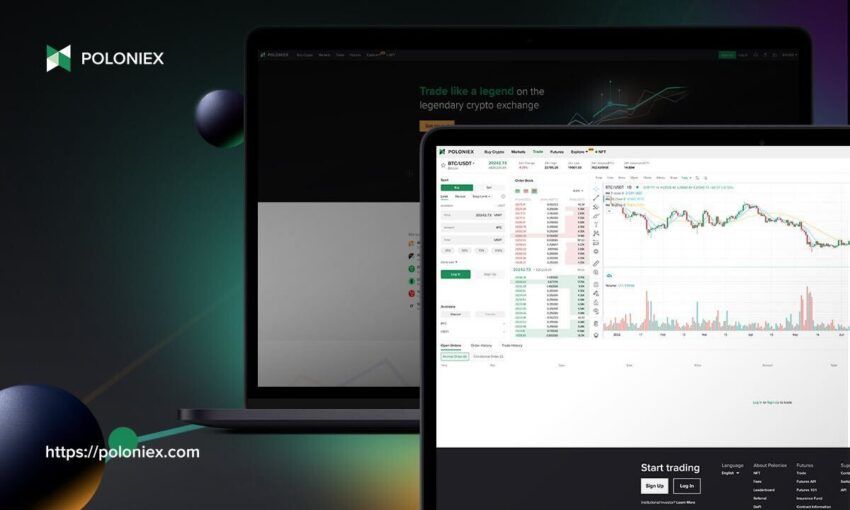 On August 1, 2022, Poloniex unveiled a new trading system with increased speed, dependability, and use for both retail and institutional clients. The new system offers three significant upgrades:
Speed
The new matching engine by Poloniex can match orders 30 times faster and raise TPS by 10 times.Additionally, latency has been cut by 5 times. The new API offers consumers a better user experience, additional functionality, and lower latency.
Stability
Higher catastrophe tolerance is offered by the microservice architecture.If traffic volume drastically grows, support service autoscaling comes into place.There also won't be any interruptions to transactions during system updates.
Usability
Introduction of Market order and Stop-market order.The candlestick chart has been improved to accommodate both novice and experienced traders.Greater features for all of its users are introduced, resulting in a much-enhanced trading experience.
In addition, Poloniex implemented a zero-fee trading policy in August. This will allow investors to trade various trading pairs with no maker or taker fees. This was done to commemorate the launch of the new trading system.
What to expect going forward from Poloniex?
Despite the crypto winter, Poloniex will keep looking for fresh talent abroad to enhance the capabilities of its products and services. A number of improvements are planned for this year's second half.
Its move to become a prime crypto exchange is visible through the new "P.xyz" domain. Users from all over the world can use the trading platform thanks to this domain. 
Poloniex's innovative and promising nature is supported by over 8 years of experience in the cryptocurrency space. We are optimistic about Poloniex's future because of all the amazing features they are creating!
Disclaimer
All the information contained on our website is published in good faith and for general information purposes only. Any action the reader takes upon the information found on our website is strictly at their own risk.